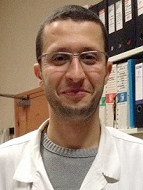 Laboratoire de Chimie et Biochimie
Pharmacologiques et Toxicologiques (LCBPT)
CNRS UMR 8601
Université Paris Descartes
45 Rue des Saints Pères
75270 Paris Cedex 06
France
Farouk BERHAL
Assistant Professor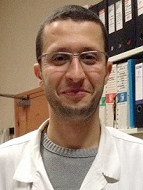 Laboratoire de Chimie et Biochimie pharmacologiques et toxicologiques (LCBPT) – CNRS UMR 8601
Université Paris Descartes
45 Rue des Saints Pères
75270 Paris Cedex 06
France
Curriculum Vitae
Sept. 2013- Asssitant Professor (CNU 32) – UMR 8601 LCBPT
Development of new transition-metal-catalyzed domino processes.
2012-2013 ATER, Pr. Guillaume Prestat – UMR 8601 LCBPT
New strategies towards the synthesis of  of Liposidomycines analogs
2010-2012 Post-doctoral associate (11 months) and ATER (12 months) Dr. Virginie Ratovelomanana-Vidal – Chimie ParisTech : UMR 7223
Addition conjuguée d'acides boroniques / Hydrogénation asymétrique d'hétérocycles azotés.
2009-2010 Post-doctoral associate (15 mois), Pr. Masakatsu Shibasaki
Graduate School of Pharmaceutical Sciences, The University of Tokyo, Japon
Total synthesis of  Mycestericines F et G.
2005-2008 PhD Thesis, Dr. Jacques Royer
Faculté des Sciences Pharmaceutiques et Biologiques – Université Paris Descartes : UMR 8638
Asymmetric syntheis of cephalotoxine analogs and esters.
2021
Kirby, G.; Grimaud, L.; Vitale, M. R.; Prestat, G.; Berhal, F. Iron(II)-Catalyzed Intermolecular Aziridination of Alkenes Employing Hydroxylamine Derivatives as Clean Nitrene Sources. Green Chem. 2021, 23 (23), 9428–9432 doi: 10.1039/D1GC03495B
Bitam, S.; Elbahnsi, A.; Creste, G.; Pranke, I.; Chevalier, B.; Berhal, F.; Hoffmann, B.; Servel, N.; Tondelier, D.; Hatton, A.; Moquereau, C.; Faria Da Cunha, M.; Pastor, A.; Lepissier, A.; Hinzpeter, A.; Mornon, J.-P.; Prestat, G.; Edelman, A.; Callebaut, I.; Gravier-Pelletier, C.; Sermet-Gaudelus, I. New Insights into Structure and Function of Bis-Phosphinic Acid Derivatives and Implications for CFTR Modulation. Sci Rep 2021, 11 (1), 6842. https://doi.org/10.1038/s41598-021-83240-x.
Bardin, E.; Pastor, A.; Semeraro, M.; Golec, A.; Hayes, K.; Chevalier, B.; Berhal, F.; Prestat, G.; Hinzpeter, A.; Gravier-Pelletier, C.; Pranke, I.; Sermet-Gaudelus, I. Modulators of CFTR. Updates on Clinical Development and Future Directions. Eur. J. Med. Chem. 2021, 113195 doi.org/10.1016/j.ejmech.2021.113195
2020
Abi Fayssal, S.; Giungi, A.; Berhal, F.; Prestat, G. Iron-Catalyzed Intra-Intermolecular Aminoazidation of Alkenes. Org. Process Res. Dev. 2020, 24, 695 10.1021/acs.oprd.9b00400.
2018
Manick, A.-D.; Aubert, S.; Yalcouye, B.; Prangé, T.; Berhal, F.; Prestat, G. Access to functionalized imidazolidin‐2‐one derivatives by iron‐catalyzed oxyamination of alkenes, Chem. Eur. J. 2018, 24, 11485-11492. 10.1002/chem.201802190
Manick, A.-D.; Berhal, F.; Prestat, G. Development of a One-Pot Four C−C Bond-Forming Sequence Based on Palladium/Ruthenium Tandem Catalysis, Org. Lett. 2018, 48, 194-197. 10.1021/acs.orglett.7b03556